Quality roofing ...... done right
Tulsa's Premier Roofing Company
For the best roofing and roof repair in Tulsa ... Give us a call
We work hard to ensure that your roofing project quality is 'Top-Notch' and that you are satisfied with our work as Tulsa's best roofer. Compare us with the best roofing contractors in Tulsa, OK.
BONUS! Seamless gutters with new roof
Welcome to 
Roof IT
Keeping Tulsa Homeowners
NICE & DRY For over a decade!
RoofIT – by McGuire Roofing and Construction has been serving the Tulsa County, OK and surrounding areas as a top quality roofing contractor for over a decade. We have earned the Top A+ rating from the Better Business Bureau for roof and repair services by providing quality service and attention to our customers. Need your roof fixed ?   … well then, say no more.  RoofIT provides FREE ESTIMATES for roofing service at cost competitive low rates to fit your budget and offer you the best value in residential and commercial roofing in Oklahoma.  So, whether it's asphalt shingles, tile or sheet metal roofing, or a quick fix emergency roof repair, we have the quality materials and roofing options for your needs. We even supply seamless aluminum rain gutters for your guttering needs. RoofIT specializes in roof hail damage assessment and roofing insurance claims.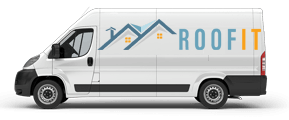 Contact us today to schedule an appointment
When you choose us, you can rest assured that your new roof is durable,  secure, energy-efficient, and constructed from the strongest materials available.
Between our superior quality care, affordable pricing, and personalized service, you can count on us to meet all of your needs for roofing installation and roof repair in Tulsa.  A leaky roof and need a quick fix, roofing repair or complete roof replacement? … no problem, we can respond ASAP to handle and fix your Tulsa roof repair needs. 
"One of the top roofing contractors in Tulsa, OK"
They are extremely trustworthy and knowledgeable
By far the best roofing company we have dealt with. I purchased a new home and it needed a new shingle roof almost immediately. We did our research called and had several different roofing companies come out and give us an estimate. Eventually, we found ROOFIT – by McGuire Roofing… There was no 3 hours sale pitch about why they are the best etc, etc. He came out assessed our roof and gave us HONEST upfront feedback. He told us pro's and con's but NEVER attempted to get us to go with a different roof composition.
– John H.
Absolutely Exceptional!
Our last roofer wouldn't come back and fix a leak on our roof. We called Casey McGuire told him where the leak was and he came out the next day and repaired our leak. We will definitely be calling on RoofIT again on repair or replacement of our next roof. – Diana M.
Professional, experienced, and determined
Casey McGuire and his team have performed in an excellent and professional manner. They were on time and finished on schedule. They bent over backwards to accommodate the challenges of working with me while I was out of town. They also worked with me while I was working with the insurance company. I can fully recommend them as a great roofing contractor in Tulsa without reservation. Richard A.
We are a team of professional craftsmen dedicated to our business and making a living by satisfying our customers with top quality work, materials, and service. As it's now a decade since we've launched our roofing business, we think the timing is good for making a small overview of our accomplishments so far. By now, we've become one of the best Tulsa roofing companies for a leaky roof leak fix, complete roof replacement and gutter installation and an overall top roof repair contractor both in Tulsa County, OK and surrounding areas.
QUALITY & EXPERIENCE
Only top-quality materials are used on our projects. We have experienced teams with the know-how to get your job done right, whether is a roofing job, a simple or complex roof repair, remodeling or rain guttering.
HONEST AND DEPENDABLE
Our personnel are background screened to meet our high standards. We have built a reputation for reliable and trustworthy service.
Top A+ Businsess Rating with BBB
A first-rate status is achieved with hard work over time. You can choose RoofIT with the trust that comes from our superior reputation as one of the top Tulsa roofing companies.